SlowLife Coaching for


Business Improvement
SlowLife Coaching for Business Improvement est une série de sessions live via Zoom pour acquérir les fondamentaux de la mise en œuvre d'une approche SlowLife dans un contexte d'entreprise. Une façon unique et extrêmement efficace de promouvoir le team building, améliorer le bien-être des participants et augmenter la productivité des équipes.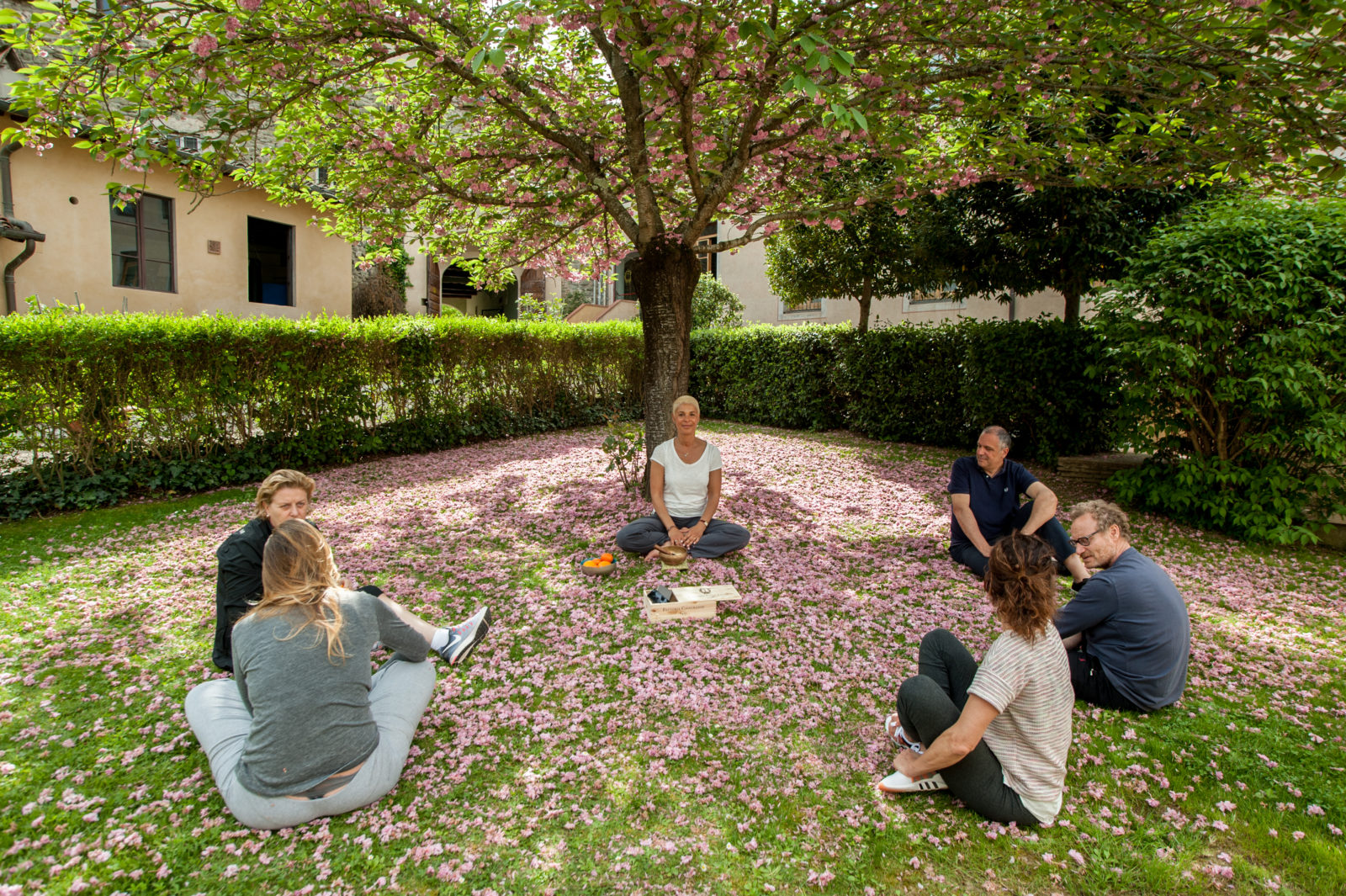 Option 1:
SlowLife Fondamentaux
Cette séance de 75 minutes offre une introduction aux principes SlowLife et sur la façon dont ces derniers peuvent être utilisés pour une meilleure intégration entre bien-être personnel et environnement d'entreprise, avec à la clé l'amélioration de la performance business.
A travers un doux yoga méditatif, cette séance utilise la respiration, pour apprendre aux participants à être dans l'instant présent, à gérer certaines émotions, améliorer la qualité de leur sommeil, retrouver calme et sérénité et se reconnecter avec leurs besoins les plus profonds.
Tarif de la séance :
Jusqu'à 5 participants : 500 Euros
De 6 à 10 participants : 900 Euros
75 minutes
Jusqu'à 5 participants
75 minutes
Jusqu'à 10 participants
.
Option 2:
Utiliser l'approche SlowLife pour augmenter la productivité
Cette formule de trois séances de 60 minutes reprend « SlowLife fondamentaux » et développe en profondeur les concepts abordés afin qu'ils puissent être mis en œuvre au quotidien dans le contexte de l'entreprise. Les thèmes abordés incluent :
Posture
Conserver la conscience de son corps tout au long de la journée, découvrir la meilleure posture pour période assise prolongée, soulager les tensions de la nuque, des épaules et du dos
Concentration
Maintenir sa concentration à travers la journée et en toutes circonstances : en réunion, lors du travail individuel, lorsque l'on est fatigué, est sujet à des distractions, ou après les repas
Relaxation
Techniques de relaxation pour améliorer ses capacités à transformer ses émotions négatives lorsque l'on est frustré, soulager les tensions mentales, améliorer la qualité du sommeil et améliorer ses interactions avec son environnement
Nutrition
Des stratégies simples pour créer un rapport équilibré à la nourriture, favorisant le bien-être et éviter d'en faire un mécanisme pour soulager le stress
Smart Working
Une nouvelle approche pour un meilleur équilibre entre vie personnelle et vie professionnelle.
La formule « Utiliser l'approche SlowLife pour augmenter la productivité » n'a pas de limites en termes de nombre de participants. Le tarif est de 1500 euros.
Stacy

This was for a corporate event and everyone really really loved it! They wish they could have stayed on longer! I will definitely keep this on the short list for activities in the fucture.
Megan

What an incredible experience! I selected Sandrine's virtual experience as a 'work retreat' to recognize the hard work of our remote staff. Everything was excellent – Sandrine set the tone right away with her relaxed demeanor and cozy atmosphere. Her instructions were clear and inclusive, and tailored for the audience. The hour and half flew by. I can't remember the last time I felt that relaxed, and the team felt similarly. Would highly recommend her class for an individual or group!
Silvia
Sandrine is very friendly, kind and calming. She made the experience customized to the needs of my team and she helped us relieve pain from the back, release tension in the body and bring peace into the mind. She gave us great advice on how to relax during the day, sleep better and cope with stress. It was an amazing experience! My team loved it. I would recommend this experience as team-building event but it could be a relaxing night with friends as well.
Karen
Sandrine helped me and my coworkers relax before the weekend! I love that she tied it back to how it could help us in our day-to-day remote work in front of a computer. Her calming voice was easy to get lost in and she provided beginner-friendly stretches, an intro to meditation and ended with gentle yoga on the mat. She was also quick to respond to my questions while I was planning too.
Karen
Ekaterina
Our team loved this experience! Highly recommended as a beautiful way to slow down and learn some calming techniques. We all felt very relaxed and zen and will definitely use these techniques in the future. Sandrine is a wonderful host, very attentive and caring, she made sure everyone was comfortable and could follow her guidance well. Highly recommend!
Karla
This experience was perfection! We had a long, grueling, all-day Zoom Business Mtg scheduled and decided to put this experience right in the middle. It gave us something to look forward during the morning and then after the experience we were relaxed, but alert and able to finish the day strong. We absolutely loved Sandrine, her spirit and kindness come through the screen and touch you! We did not want the experience to end, but thankfully for many of us, the benefits of embracing the slow life, even for the 1.5hrs we were with Sandrine, extended into the overnight hours where we slept like babies! I've been sleeping better ever since! Highly, highly recommend this peaceful and soul-giving experience. This is what an experience should be! Book it now, thank me later 😉
Mia
This event was perfect for me and my co-workers who spend a lot of time in front of the screen. Sandrine was very informative and soothing and really created a nice environment. We were all able to relax and I definitely slept VERY well that night!